This month, I gave in and decided to participate in Grograin's Dress by Friday. (See button below for the true name, it's just weird for me to use the f-word in reference to a modern daytime dress. Although it technically works, I suppose I've simply taken too much costume history.) Anyway, I've always found sew-alongs where everyone goes off of the same pattern a little weird. I mean, it's fun seeing tons of sliiiiiight variations on the same pattern! Right?
Yeah, not really. Not as fun as you'd think.
BUT, I feel like Burdastyle's
Gail
has the potential to be different.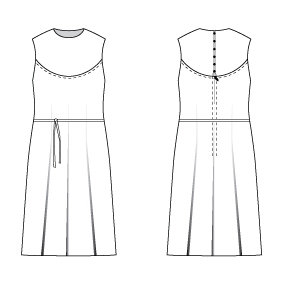 It seems that there's a lot more room for variation & beauty in this one than some other dresses. The yoke is suggested as a lace or sheer, but really a host of dressy fabrics would do. I'm using a cotton/silk sateen for the yoke. BurdaStyle originally used guipure lace, which is always really beautiful. The more formal & flowy fabric suggestions also give me a slight confidence that there won't be any dowdy mid-weight cottons camouflaged in cutsey prints.
I was thinking of adding a waistband, but realized that it would make me look weird and saggy, much like what happened with my
prairie dress
. If you've got a decent sized chest, this relaxed top/cinched-in at your natural waist look is terrifying in a dress. Much better on little wispy girls. I'm altering the neckline and adding ties, so I'll be counting on them as the focal point. Probably a little more dramatic than in my drawing.



Left: purple poly lining. Center: black cotton/silk sateen. Right: blue & purple silk/cotton lawn.
Black and blue. TOGETHER. What insanity!
I'm hoping to be done by the end of today. Suppose it will still have been done 'by Friday', eh? Totally counts.